Disruption Arena
print $node_det->field_strapline['und'][0]['value'];?>
Technology is disrupting society, communication, companies and even the form that leisure and pleasure take. This activity took on the task of being an overarching activity in the centre and the ambition was to pick up on challenges to society and technology design that come from the disruptive role of technology. We wanted to create an arena where we could bring in experts in particular areas – detecting new challenges in a project or by our partners, and draw on existing Mobile Life research to understand and address them.
What better arena to explore new services and products than in all the challenges facing a city with its citizens working, living, traveling, communnicating, playing and so on. There are endless ways in how we can imagine technology will disrupt our lifes in the city, both in good and bad ways. The opportunities with digital technology are overwhelming and challening to foresee. How can we use sensors to create safety for citizens walking in the parks or at the streets after dark? In what ways can we use data to understand the traffic flows or predict where and when the bus should go and pick up passengers? In what ways will all these services and products impact on our lifes regardning privacy, regulations and policies? The possibilites for a future city with all this technology and data are endless and the questions are endless. Together with our industry partners and the City of Stockholm we worked with the method of Design fiction to challenge us to think outside of the boundaries for what can be done today and instead thing about what might be possible in a near future. A bit like science fiction. We collected our ideas and thoughts in a brochure that we imagined be handed to us from the future: "Welcome to the smartest city in the world". The work has not ended by the creation of the brochure but will rather encourage a continued discussion about what the society will look like if we were to implement all the ideas into the real life.
The brochure is available for download to the left.
Contact: Maria Holm, maria.holm@ri.se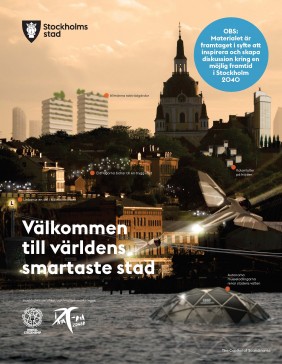 Design fiction brochure of a possible future city with digital technology